Overflow ball mill is a grinding mill discharging through ore slurry self flow and will grind the big size ore into small or fine. It is usually used in the second stage grinding to produce fine particle product and widely used for electric power, ferrous metal and nonferrous metal, chemical industry and building materials etc.
Structure of overflow ball mill
The structure of the overflow ball mill is shown in Figure 1. It can be seen from the drawing that its structure is simpler than grid ball mill, and the other is similar to the grid type ball mill in addition to the discharge end. The overflow ball mill spilt from the lower edge of the hollow shaft of the pulp, and it does not need to install a heavy grid plate. In addition, in order to prevent the steel ball and coarse grained ore in the ball mill from being discharged with the pulp, the inner surface of the hollow axle neck bushing is inlaid with a reverse spiral blade.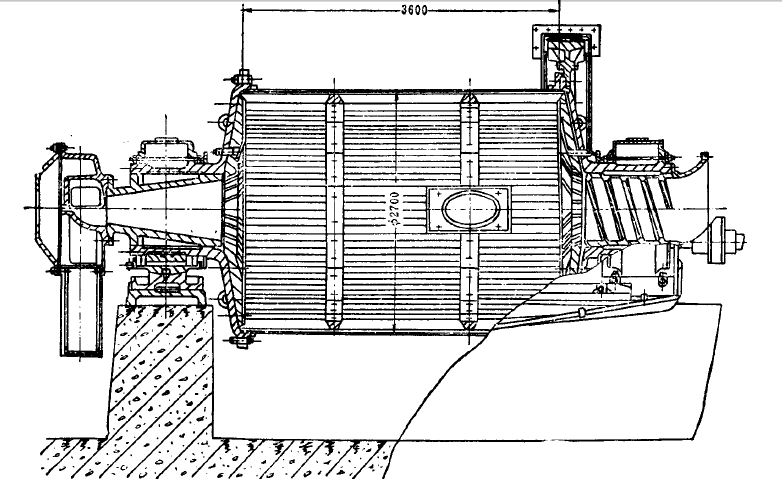 Figure 1.overflow ball mill
Specification of Overflow ball mill
Related products post:
Advanced sealing technology, to ensure good working environment.
The use of advanced design means, to ensure safe and reliable mill.
Mature and strict processing and detection means, to ensure the quality and accuracy.
With a strong brand manufacturers at home and abroad, to ensure the quality of the machine running.
The machine is equipped with a complete turning, jacking device and tool installation and maintenance.
The main component of overflow ball mill is a rotary cylinder supported by bearings which is revolved by transmitting machinery. Materials are put in cylinder through the feed opening and then thoroughly grinded. The falling course of iron balls and ores can produce huge falling impact and autogenous grinding. The continuous feeding of ores can create considerable pressure to make ores move from feed opening toward discharge opening. Finally, acceptable particles are discharged from the discharge opening. Hollow shaft with the anti-spiral blade returns the steel ball and the coarse ore.