BF type flotation machine integrates the characteristics of the existing flotation machine in China, and is a kind of energy saving and efficient self aspirated flotation machine. The machine has the features of horizontal configuration, self-sucking air, self-priming slurry, self-return of middling foam etc, the ancillary equipment is not needed. Compare with type A flotation machine, energy consumption of single-capacity type is saved by15% ~ 25%, the use cycle the wearing parts is double extended. It is suitable for non-ferrous, black and non-metallic mineral separation.
Structure of BF flotation machine
BF floatation machine is reformed on the basis of SF flotation machine, its performance is more stable, its structure is like figure 1.
1. scraper; 2. bearing body; 3. motor; 4. center cylinder; 5. air suction pipe; 6. tank; 7. spindle; 8. stator; 9. impeller.
Technical features of BF flotation machine
The BF flotation machine has the following technical features:
1)The impeller is composed of a closed double truncated cone, which can produce a strong downward circulation of the pulp.
2)The suction volume is large and the power consumption is low.
3)Each cell has three functions of suction, suction and flotation, self flotation circuit, without any auxiliary equipment, the horizontal configuration, easy to change the process.
4)The slurry circulation is reasonable and the coarse sand precipitation can be reduced to the maximum.
5)It is equipped with automatic control and electronic control device for slurry liquid surface, which is easy to adjust.
Dimension of BF floatation machine is shown as figure 2.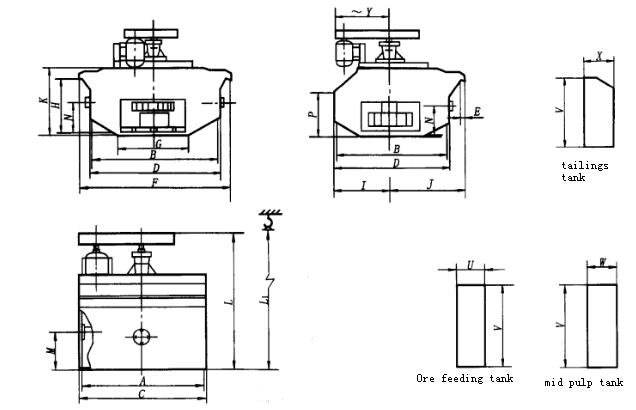 Figure 2. BF flotation machine dimension
Specification of BF Flotation machine
1.A novel design of backward double blade impeller;
2. Self-priming slurry, do not need a ladder configuration;
3.The inspiratory capacity is big, and inspiratory capacity is adjustable;
4.High efficiency, stable liquid level;
5.Spare part's life is long, convenient operation and maintenance;
6.The clearance allowance between impeller and the cover plate is wide, with the wearing clearance between the impeller and cover plate increasing, inspiratory capacity has no obvious change;
7.The flow of the slurry is fixed in the tank, which is advantageous to the suspension of coarse minerals.
When the main shaft with motor drives impellers to rotate, the slurry in impeller cavity is subjected to centrifugal force to fly out, the negative pressure is formed on the upper impeller blades central area, the suction air and feeding are realized, and at the same time the lower impeller blades suck slurry from the tank, two streams of slurry merge in the centre area, then flow around the impeller, after steady flow and orientation of the cover plate, enter into the tank, mineralized bubbles rise to the surface of tank to create foams.