High frequency dewatering screen
High frequency dewatering screen is a kind of vibrating screen with high frequency and high vibration intensity. It is mainly suitable for the wet classification and solid-liquid separation of fine material below 0.5mm. Widely used in filtration and dewatering equipment industry such as beneficiation, environmental protection, tailings dry row, concentrate dewatering, slurry concentration, removal of debris, carbon slurry separation etc. This machine is particularly suitable for processing fine minerals. In addition, it can combine with hydrocyclone to be more efficient.
The structure of High frequency dewatering screen is shown as blow: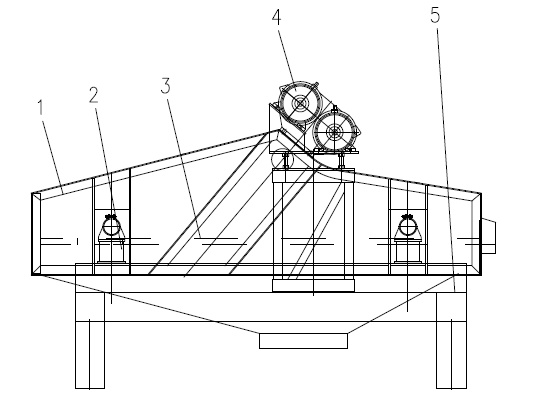 High frequency dewatering screen
1. screen box; 2.rubber spring;3.screen mesh; 4. vibrating motors; 5. frame
Specification of High frequency dewatering screen
Advanced structure, small size, low noise, high dehydration efficiency
The screen using the polyurethane sieve plate has the advantages of simple structure, convenient maintenance, durable.
High vibration intensity, high frequency of work, rely on the sieve filter layer to retain the fine particles and the material layer extrusion dehydration, the realization of ordinary vibrating screen can not complete the work of large screen seam recycling fine particles.
High frequency dewatering screen adopts double vibration motor as power supply. The two motors that rotate synchronously and reversely and centrifugal force is produced by two groups of eccentric block. This makes the screen body periodical to-and-fro moving along the direction of straight line, which is for the purpose of dehydration. The screen frame is connected by the high-intensity bolts, so the structure is stable and durable.

Thank you for your interests in Sinonine, Please feel free to submit your inquiry information to us. our sales manager will contact with you as soon as possible.