The disc feeder for the volumetric measurement of feeding equipment, evenly and continuously feeding material to the next procedure, suitable for feeding various non viscous materials, not suitable for powdery material good flow properties, suitable for disc feeder feeding material, water, coal, ore, limestone, clay mud clinker such as powder, granular material. The disc feeder has two kinds of hanging type and seat type, and the two are divided into open and closed type.
Hanging type disc feeder
Hanging type disc feeder adopts open type feeding mode, suitable for medium and fine grained material feeding, mainly used in coal preparation, beneficiation plant, sintering, building materials, electric power and other industries in the production process, the series feeder by a motor through a worm reducer different ratio to drag with the specifications of the main disc. The general drawing of the hanging disc feeder is illustrated in Figure 1.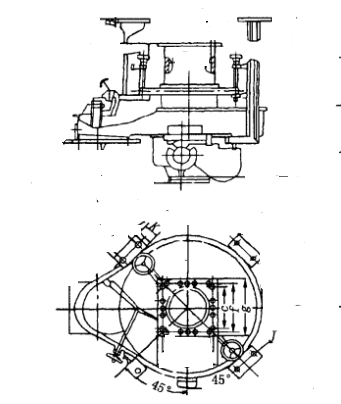 Figure1. Hanging type disc feeder
Seat type disc feeder
The seat type disc feeder has 2 kinds of open transmission and closed transmission. It is suitable for the feeding of medium and fine grained materials. It is mainly used in the production process of coal preparation, mineral processing, building materials, power and other industries. The series feeder is driven by motor through different speed ratio of cylindrical gear reducer to drive different sizes of disc body. The general drawing of the seat type disc feeder is illustrated in Figure 2.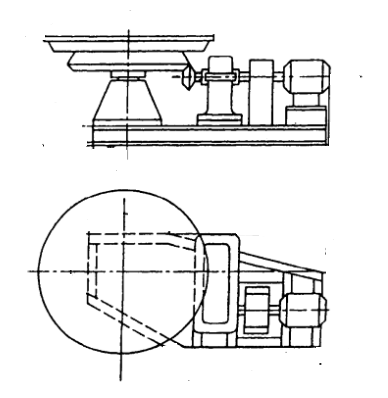 Figure 2. Seat type disc feeder
Specification of Disc feeder
Related products post:

Stable working and easy operation.
Wide application, energy saving and efficient.
Large bearing capacity and stable operation.
Simple structure; even feeding; convenient maintenance.
Bulky materials entering into the cylinder from the hopper accumulate by itself weight on the disk. The natural angle of material is controlled on the disk by adjusting the gap between the sleeve and disc. When the disk rotates, the materials are scraped into accepted hopper by unloading knife, so with the continuous rotation of the disk, the materials are fed evenly. Adjust the gap between the unloading knife and the disk to control the feeding volume.