The method of beneficiation with the aid of the flow of flow in the inclined slot is called the chute mineral processing, and the equipment used is called the chute mineral processing equipment. The spiral chute cross-section of the cubic parabola shape, the bottom of the groove is wide relatively smooth, suitable for separating fine grained ore and mud.
Usage of spiral chute
Spiral Chute is suitable for sorting gold mine, silver mine, alluvial gold mine, lead-zinc mine, copper mine, tin mine, titanium iron mine, pyrite mine, hematite, limonite, chromite, ferberite, tungsten, tantalum-niobium, colliery, monazite, sapphire , barites, rutile, zircon, etc. Spiral Chute is high efficient equipment for sorting ferrous, nonferrous, nonmetallic mine and minor metal mine.
Glass steel spiral chute
The glass steel chute is one of the most widely used spiral chutes. Its structure is shown in Figure 1, and its layout is like Figure 2.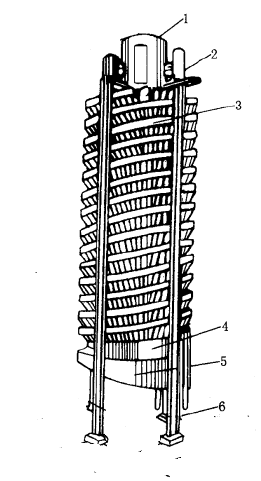 Figure1.glass steel spiral chute
1. homogener; 2. feeder; 3. spiral gchute; 4. interceptor; 5. ore hopper; 6. frame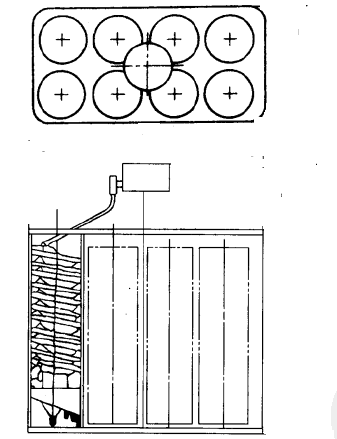 Figure 2. glass steel spiral chute arrangement drawing
Specification of spiral chute


1.Stable, easy control, wide range of concentration.
2.Large capacity, high enrichment ratio, high recovery rate.
3.Small cover space, less water consumption, simple structure, no need of power.
4.Simple installation, convenient operation, less investment, quick return.
Ore pulps are uniformly fed into machine and form different layers as they pass across chute. Heavy minerals precipitate to bottom and are moved toward inner edge by the comprehensive action of various forces; light minerals are moved toward outer inner due to the speedy rotation. As a result, mineral particles with different density are divided into three zones as concentrate, middling and tailings.